Granite Countertops in Elberton, GA
Tri-State Granite Interiors is the premier provider of granite, marble and quartz countertops in the Georgia, North Carolina and South Carolina tri-state area. We fabricate high-quality countertops for kitchens, bathrooms, outside spaces and more with great attention to detail and quick project turnaround.
Learn more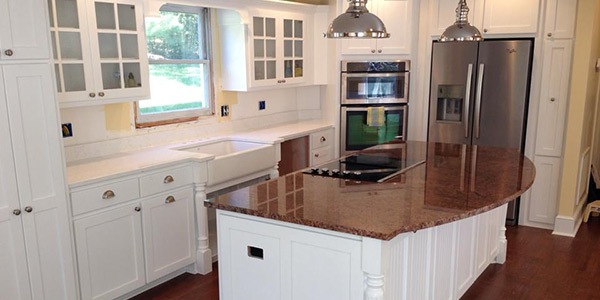 At Tri-State Granite Interiors, we know that beautiful countertops can enhance the look and function of your home. That's why our family owned and operated business strives to give you the best quality granite, marble and quartz countertops in Elberton, GA. For over 15 years, our company has been the leading provider of striking, high-quality countertops that clients rave about. Best of all, we guarantee a two-week turnaround time for kitchen and bathroom countertop projects – even though we often get the job done in less time!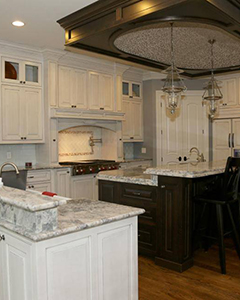 Tri-State Granite Interiors specializes in creating custom marble, quartz and granite countertops in Elberton, GA. Outside of the Elberton area, our years of experience and high-quality results make us the top choice for customer countertops in all of the Georgia, North Carolina and South Carolina tri-state area. We've made stunning countertops for indoor and outdoor kitchens, bathrooms and countless home remodels. Additionally, our business is fully licensed, bonded and insured for your added protection and peace of mind. When you partner with Tri-State Granite Interiors, you can rest assured that you're working with the most skilled technicians and best materials in the industry. Whether you're revamping your kitchen or want to give your bathroom a new look, our customized countertops will be beautiful in your home and last for years to come. Clients choose Tri-State Granite Interiors for all of their countertop needs because:
We have over 15 years of experience creating beautiful, custom countertops for clients.
Our business is family owned and operated.
We create stunning granite, quartz and marble countertops in Elberton, GA
When you place an order, we guarantee it will be ready in two weeks – or less!
We design and create countertops for bathrooms, kitchens, remodels and more.
Check out our Marble and Granite suppliers here and here.
---
---
Tri-State Granite Interiors is your top choice in the Tri-State area for granite, quartz and marble countertops in:
Athens, GA
Comer, GA
Danielsville, GA
Elberton, GA
Hartwell, GA
Lavonia, GA
Royston, GA
Tignall, GA
Clarke County, GA
Elberton County, GA
Franklin County, GA
Hart County, GA
Madison County, GA
Wilkes County, GA
Anderson, SC
Calhoun Falls, SC