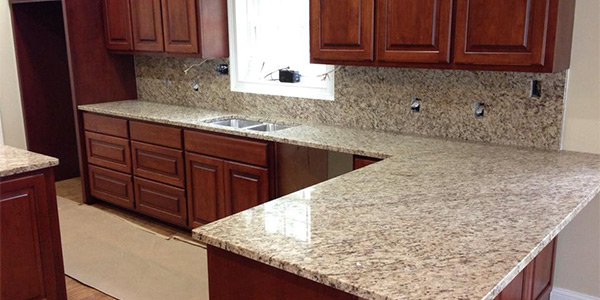 Stone Kitchen Counters
Tri-State Granite Interiors specializes in creating gorgeous kitchen counters in Elberton, GA and throughout the tri-state area. Our kitchen countertops are carefully designed and crafted to enhance the look of your entire room. To ensure you have a variety of beautiful stone options for your space, we offer granite, quartz and marble counters.
Our business works with clients who are looking to improve their existing space through new countertops, as well as those who are undergoing complete kitchen remodeling in Elberton, Danielsville, Comer, Bowman, and Colbert, GA. Through our services, you'll feel confident that your kitchen will receive the best custom countertops available.
At Tri-State Granite Interiors, we know that your kitchen countertops are an essential part of your home's design. That's why we offer the following services and more: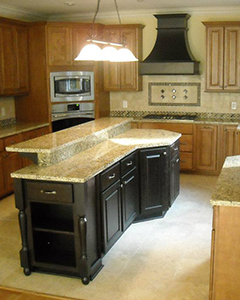 Quality materials: We craft the highest quality quartz, marble and granite countertops in Elberton, GA. Whether you're looking for a durable granite or quartz design or an elegant countertop made of marble, our materials are thoroughly inspected to ensure your investment meets our high standards.
Quick turnaround: We guarantee that your kitchen countertops in Elberton, GA will be ready for installation in a two-week turnaround period. You'll never have to wait on our services to complete your kitchen update or remodel. In fact, many times we are able to complete your countertops even faster!
Exceptional service: With over 15 years of experience in the kitchen remodeling industry, you can trust that our granite, quartz and marble countertops in Elberton, GA are made from durable, resilient materials you can depend on for years to come. Further, each of our technicians is fully licensed, trained, bonded and insured to protect your home and ensure your confidence in our services.
We offer our clients Cambria Quartz and Zodiaq by DuPont countertops in Elberton, GA, as well as all-natural marble and granite stones. To learn more about how the bathroom and kitchen remodeling experts at Tri-State Granite Interiors can enhance your kitchen counters, contact us at 706-283-3555 today.